The Story
The Pratt Engineering/Pullman Company property is a historic industrial complex located in the Kirkwood neighborhood of Atlanta. Construction began in 1904, followed by a second building campaign when the Pullman Company bought the property in 1926.
Pullman Yard was purchased by the State of Georgia in the 1990s and sat vacant for over two decades​. In 2001, the Pratt-Pullman site was placed on the Atlanta Preservation Center's endangered places list and in 2009 the Kirkwood neighborhood, including the Pratt-Pullman site, was placed on the National Register of Historic Places.
In 2016 the State put out a request for bids on the property while refusing to consider any kind of protections for the historic properties. Attempts by the City of Atlanta to designate Pullman Yards as a Landmark were disputed by the state. A protest at Pullman Yard in December 2016 was one of our organization's earliest rallying points. In 2017, the property was sold to Atomic Entertainment and the company appears to be dedicated to the preservation of the historic fabric of the site and are pursuing the use of historic tax credits to rehabilitate the property.
News
Sept. 17, 2018: Curbed: Pullman Yard Project… transformation into a "creative city"
April 19, 2017: The State of Georgia, through the Georgia Building Authority, sold the Pratt Pullman property to Atomic Entertainment
December 7, 2016: The State of Georgia, owners of the Pratt Pullman property, release an invitation to bid on the property. No protections for the historic buildings are included. Protests over the state's handling of the sale occur over the next few months.
​November 22, 2016: Atlanta Urban Design Commission votes to withdraw nomination of the site.
August 15, 2016: Atlanta City Council unanimously passes resolution (16-R-4040/20) requesting the executive director of the Atlanta Urban Design Commission to nominate the Pratt-Pullman Historic Site as a landmark district.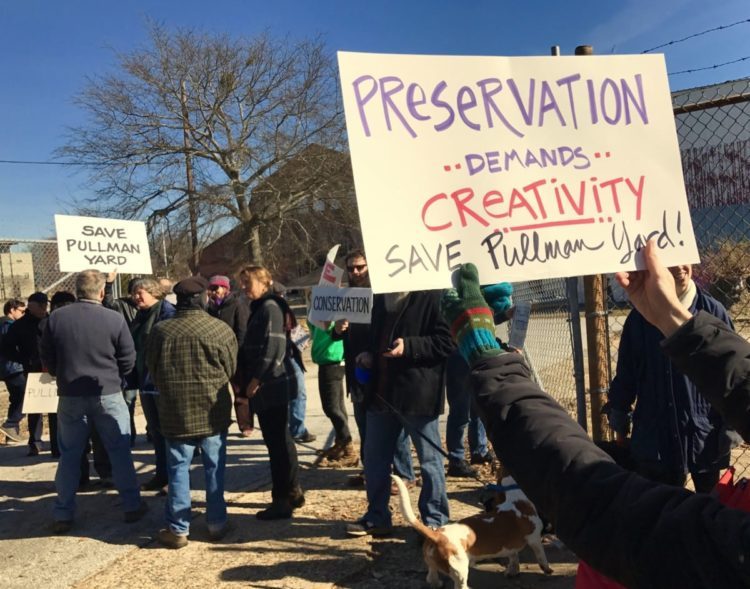 History
Nathaniel Palmer Pratt (b.1858-d.1942), was born in Milledgeville, Georgia, which was then the state capital. In 1878 he graduated from Washington & Lee University. N.P. Pratt, like his father, was a chemist, engineer and an ambitious entrepreneur. He founded the N.P. Pratt Laboratory in 1879, at the age of 21. Though it wasn't until 1890 that the business engaged in any serious work, by 1900, he held at least a half-dozen patents for the manufacture and production of various chemicals, including sulfuric acid, his patent of which was the worldwide standard for many years. Pratt Laboratory was one of the first to manufacture and sell liquid carbon dioxide, which would be used in the newly popular soda fountains. This connection to soda would result in a very successful career for Pratt's cousin William Pratt Heath, who was Pratt's chief chemist for many years, and would later go on to work for Coca Cola.
In 1898 N.P. Pratt Laboratory bought Fulton Foundry and Machine Company, which had a plant located at 490 Marietta street and also with offices in New York City. Presumably, Pratt realized that he could not only patent chemical processes and apparatuses, but could manufacture and sell the machinery used in these processes as well. A year later, in 1899, N.P. Pratt Laboratory built offices and a laboratory at 90 Auburn Avenue (corner of Courtland) in Atlanta (not extant).
In 1904, Pratt began construction on a state-of-the-art facility in the newly incorporated hamlet of Kirkwood, just south of the Georgia Railroad tracks, between Atlanta and Decatur. Kirkwood at the turn of the century consisted of not much more than a collection of fine estate homes, a post office, a fire station, and a couple of general stores. The area was easily accessible by two trolley lines, and with this new employer, this would help precipitate a swift residential building boom, filling out most of the neighborhood with Craftsman style bungalows.
Sometime in 1908 or 1909, Pratt Engineering and Machine Company was formed. It is unclear what transpired here, but it appears that Pratt Engineering & Machine Co. was spun off of the engineering department of N.P Pratt Laboratory. N. P. Pratt and George L. Pratt (for whom much of the design credit for the new facility is due) continued to manage the Kirkwood factory. Notorious businessmen, Joel Hurt and George F. Hurt had a hand in this deal and became directors of the new company. Both companies continued to operate in tandem for another decade or so (Joel Hurt papers, G.F. Hurt biography, American Fertilizer, Vol. 30, Jan. 1909). 
Pratt Engineering (and, prior to 1909, Pratt Laboratory) not only produced manufacturing equipment, but also built dozens of complete factories around the state, country, and world, including factories in Cuba, Puerto Rico, and Brazil. Machines were constructed onsite at the Kirkwood location, assembled and tested as a complete production facility, then disassembled and loaded onto train cars for shipment to their final destinations.
Briefly during World War I, the plant was used for the production of munitions. Though the details of this work are unknown, it was not an uncommon practice at the time. Franklin Garret notes in his seminal work on the history of Atlanta, that Pratt Engineering gave its employees the remainder of the day off on the morning the armistice was announced. Though it would appear that business was booming, shortly after the War N.P. Pratt Laboratory and the Pratt Engineering and Machine Company were liquidated. Portions of the lab were sold to former NP Pratt Laboratory employees to form Brogdon-Dumas Laboratories (Chemical Age, 1919 and Chemical & Metallurgical Engineering, 1920). The remainder of NP Pratt Laboratory was sold to Coca Cola, which at the same time bought out William Pratt Heath's start-up, Crystal Carbonic. Heath went on to become one of Coca Cola's chief chemists. It is rumored that Earnest Woodruff, who bought out Coca-Cola in 1919, negotiated these deals, perhaps incorporating from Pratt their successful carbonic gas manufacturing and analysis and dropping the remainder to streamline business. 

What became of Pratt Engineering is not known, but the Kirkwood facility was bought by the Pullman Company in 1926. Two large saw-toothed buildings were constructed at this time, as well as the innovative transfer table, which allowed workers to move train cars laterally down the production line, saving space and time and allowing all work to go on concurrently.
The Pullman's "Atlanta Shops", were one of several repair and maintenance facilities strategically located around the United States. As with Pratt, Pullman was a major employer for the local community of Kirkwood, which was incorporated into the City of Atlanta in 1926. In 1954, facing declining passenger train use, Pullman began closing its ancillary facilities. The company went bankrupt in 1969.
From 1955 to well into the 1970s, Southern Iron and Equipment Company, manufacturer of train locomotives and train parts, operated a train repair and manufacturing facility at the site. Southern Iron changed its name to U.S. Railway Manufacturing Co. and then to Evans Railcar Division of the Evans Products Co. Several prefab metal buildings and sheds were installed during this time.
After a decade of abandonment, the state of Georgia bought the site in 1990 for $1.66 million and began running the New Georgia Railroad, a tourist and dinner train running from Atlanta Underground to Stone Mountain. The Pratt-Pullman site was used for equipment storage and maintenance. The New Georgia Railroad went belly up in just a few years later and the site has been vacant since. Though used briefly in the late 1990s for storage and occasionally rented out to movie production crews, the site has seen the most use by graffiti artists and urban explorers.