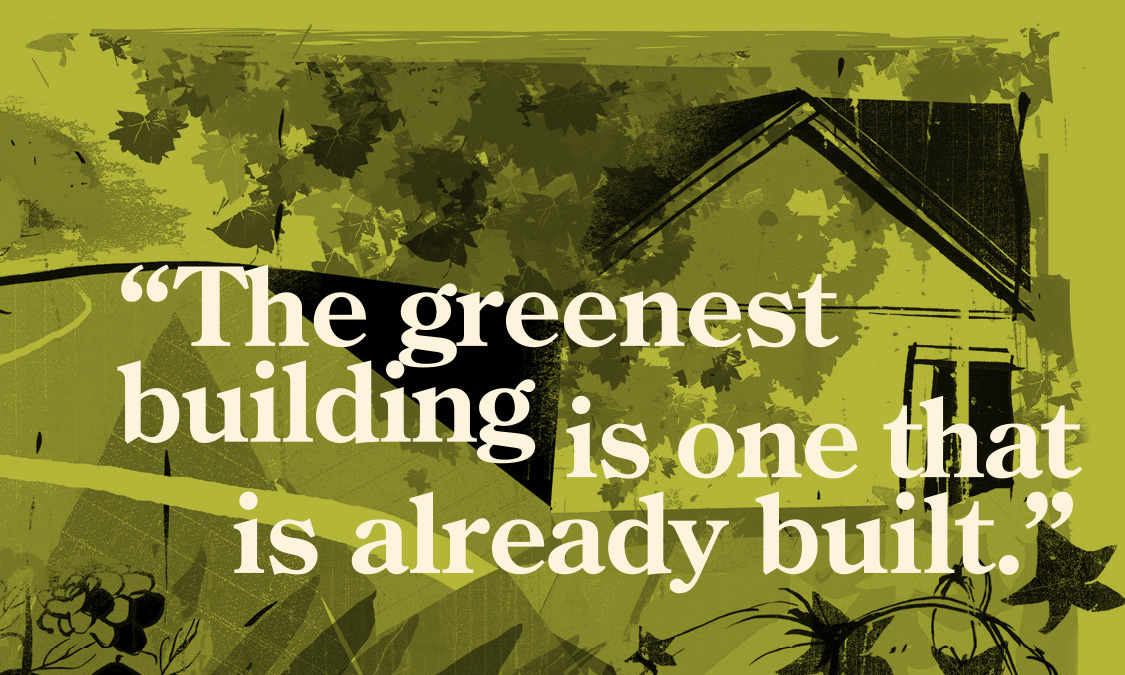 Historic Preservation and Sustainability
Happy Earth Day! As you go about your day considering ways you can be better at conserving water, saving electricity and reducing waste don't forget to consider how energy and waste conservation can might extend to buildings you inhabit everyday. Every year, millions of people worldwide celebrate Earth Day but as the old saying goes, Earth Day really should be every day. And more sustainable, environmentally-conscious living should encompass all aspects of our lives—especially our buildings.
Sustainability is inherent to historic preservation and the ultimate form of recycling. Think about it, rehabilitating existing buildings not only reuses materials and keeps them out of landfills, but eliminates a majority of the energy consumption that the process of demolition, landfilling, the production of new materials, and new construction necessitates.
It is often still a difficult point to make in mixed company, but there is no doubt in our minds that the "greenest building is one that is already built." Here are some resources that can help you better understand (and tell the world) how historic preservation and sustainability are intertwined:
The Greenest Building: Quantifying the Environmental Value of Building Reuse | This 2012/2016 National Trust for Historic Preservation study concludes that, when comparing buildings of equivalent size and function, building reuse almost always offers environmental savings over demolition and new construction.
Smart Growth and Preservation of Existing and Historic Buildings
EarthCraft Sustainability Certification | In 2014, Atlanta's own Southface and The Georgia Trust launched EarthCraft, the nation's first green building certification program for historic buildings.
WHOLE HOUSE ENERGY EFFICIENCY
Weatherizing and Improving the Energy Efficiency of Historic Buildings | It's true, buildings that were built before a time of air conditioning, high-voltage electronics, and modern insulation materials often need help being efficient. Check out this guide for tips on how to help older buildings better conserve energy.
WINDOWS
Old windows are the most-maligned feature of historic properties. Yet while typical instinct says that older windows need to be replaced, a constantly-growing body of evidence suggests that replacing windows is one of the least green things a property owner can do. Check out the information above, and below, to learn why.
Why Saving Your Old Windows is the Most Sustainable Approach
Saving Windows, Saving Money: Evaluating the Energy Performance of Window Retrofit and Replacement | A 2012 study evidencing that saving historic windows saves not only energy, but money.
8 Energy Saving Window Treatments | Scott Sidler is "the Craftsman Blog" one of our favorite resources for rehabilitating historic buildings in the Southeast. He provides understandable and accessible advice and detailed how-to guides for the average homeowner.
LEAD PAINT AND ASBESTOS
Don't let the discovery of lead paint or asbestos scare you away from rehabilitation, these toxins can be properly contained in a rehabilitation. Here are guides from the EPA: Lead Renovation Repair and Painting and Information for Buildings that Contain Asbestos.
Inspiration for this was taken from a 2013 article by Stephanie Cherry-Farmer for Preservation New Jersey.