300 Ponce de Leon Avenue is commonly known to Atlantan's as the Kodak Building for its prominent rooftop Kodak sign on the corner of Ponce de Leon and Argonne Ave. in Midtown.
The Kodak Building began life as a typical Ponce de Leon Ave residence built in 1910. In 1953, a two story commercial addition was built onto the front of the brick, Italian Renaissance Revival style home to accommodate Star Photo. The building, like the neighboring Atlanta Eagle Building, is a perfect "snapshot in time," representing Ponce de Leon Avenue's shift from a residential boulevard to a commercial corridor.
News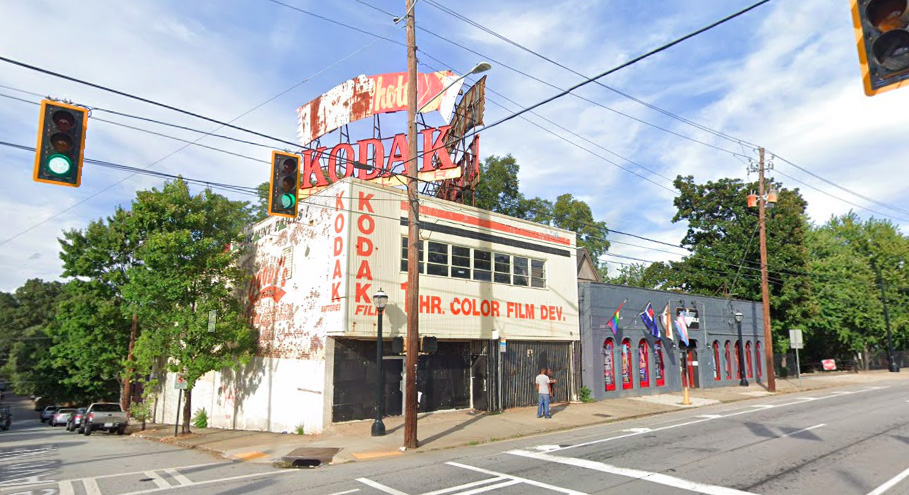 History
RESIDENTIAL:
Early Ponce De Leon Avenue was pushed by developers Richard Peters and renowned real estate duo George and Forrest Adair to be the most exclusive, upper class residential corridor in Atlanta. 300-306 Ponce De Leon Ave was first platted in 1883 but appears to have remained undeveloped until the late 1890s. William A. Hemphill, co-founder of The Atlanta Constitution in 1868 and mayor from 1891-1893, purchased lots including 306 Ponce in 1888.
300 Ponce de Leon was constructed on the same lot and adjacent to 306 Ponce by the Hancock family in 1910. The new, Italian Renaissance style house featured yellow-brick and a tile roof, large eaves, and decorative brackets. These exterior elements can still be seen on rear half of the Kodak Building today.
After the death of his wife, Virginia in 1922, William Hancock moved into brick apartments on the back of the property.
From at least 1928 to 1950 the home served as a boarding house as Ponce de Leon Avenue became increasingly commercial. Ads throughout this period enticed businessmen with phrases such as "large single or double rooms…chicken dinners. Free Parking," but this venture, once called The Poplars, came to an end soon after August of 1950.
COMMERCIAL DEVELOPMENT:
Through the early and mid-1900s streets like Peachtree Street, 10th Street, Ponce de Leon Avenue evolved from residential to commercial corridors with small businesses catering to Midtown residents and visitors. New commercial buildings were constructed between houses and apartments, some houses were replaced by commercial structures but a number of houses were simply altered to accommodate businesses. Sharon Foster Jones, in Atlanta's Ponce De Leon Avenue, describes 300-306 Ponce as two structures that best reflect this historic transformation:
"The two commercial buildings, located adjacent to each other on the northeast corner of Argonne Avenue and Ponce De Leon Avenue, are perfect examples of Ponce's evolution from antebellum farmland to urban commercial development. Two houses, built on historic land, changed from residential to commercial over the course of the twentieth century. The house on the corner is known to modern Atlantans as the Kodak building because of its large rooftop sign, while the house immediately to the east is known as home of the Atlanta Eagle…"
HOME OF STAR PHOTO:
By 1951, Star Photo, owned by Pappy Starns, had moved into 300 Ponce de Leon. In 1953, to accommodate the lab space and expanding business, Star Photo built the 2-story commercial front onto the Hancock House. Windows on the 1st floor of the exposed west facade and rear were filled in and the addition constructed in line with the existing house so that except for the upper story windows and historic eaves peeking out, the 1910 house is not readily apparent.
The commercial addition is of a decidedly modern design with a cantilevered 2nd story and a prominent ribbon window on the front. As Star Photo opened new locations in Marietta, Decatur, Moore's Mill, and other locations by 1964, 300 Ponce de Leon became known as "Star Photo No. 1."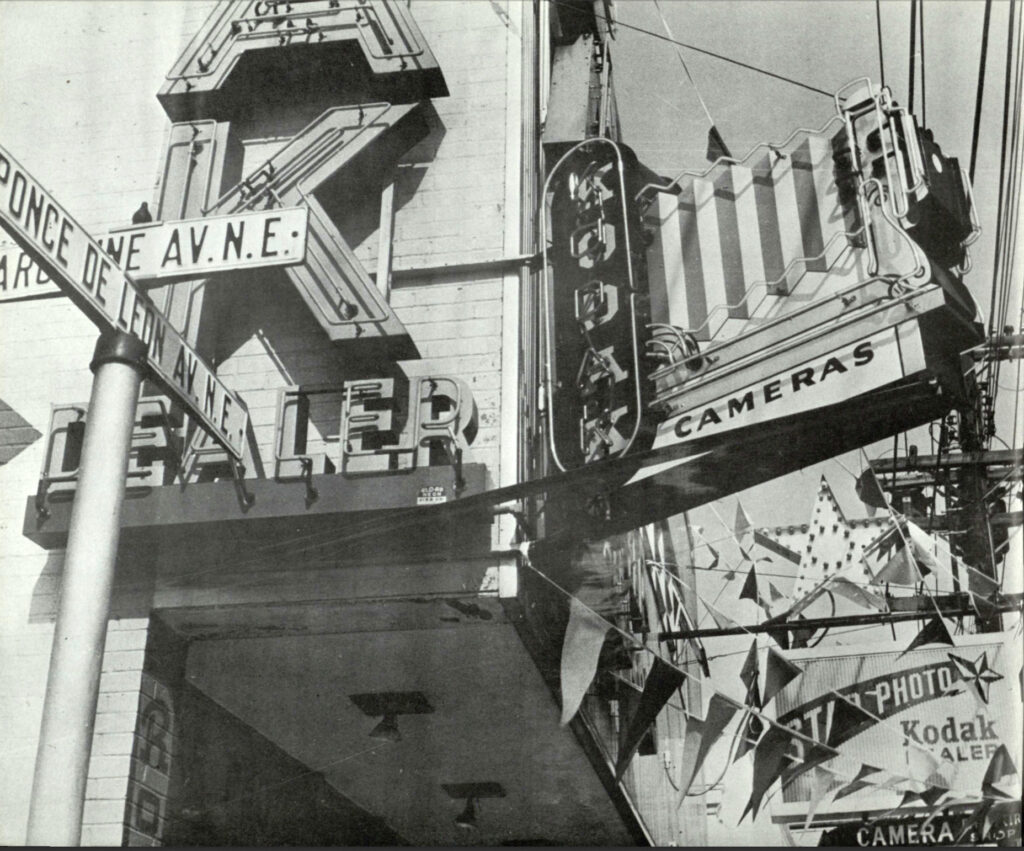 By 1965, the building covered in a motley collection of photography and, in particular, Kodak, signage. The overwhelming number of advertisements caught the attention of renowned architect Henri Jova who harshly critiqued the effectiveness of the unorganized advertisements in a 1965 American Institute of Architects planning document. Jova went so far as to publish a counter-rendering, (above) of how the building should look.
It is possible that Jova's criticism made an impact. Sometime later, the advertisements were re-designed and a more simple, yet massive, sign was placed on the top of the building. This is the steel frame sign that earned the building its name today. Star Photo closed in 1970 but the building continued to be Ritz camera's main warehouse store for the Atlanta metropolitan area until 1979.
Although relatively underused in recent years, the Kodak sign has remained at 300 Ponce, a significant feature of this unique historic building.