The Story
Plans for a Margaritaville Restaurant which surfaced in 2017 have expanded exponentially and now involve a 22 story Margaritaville Resort hotel. Demolition at the site would include a humble brick building at 152 Nassau Street which is widely regarded to be the birthplace of recorded country music. Fiddlin' John Carson recorded The Little Old Log Cabin in the Lane for Okeh Records back in 1923, which became the genre's first hit record.
The fact that this commercial building still existed in downtown Atlanta is remarkable and in 2017, the City of Atlanta sought to protect the building from demolition by designating it a Landmark. However, the designation process was halted despite the building's significance.
Historic Atlanta helped Kyle Kessler spread the word about the building's historic significance and garnered international attention in 2019 as we advocated for the preservation of this building in the face of a demolition permit. Unfortunately, the building, along with 141 Walton Street behind it was demolished in early November 2019.
The News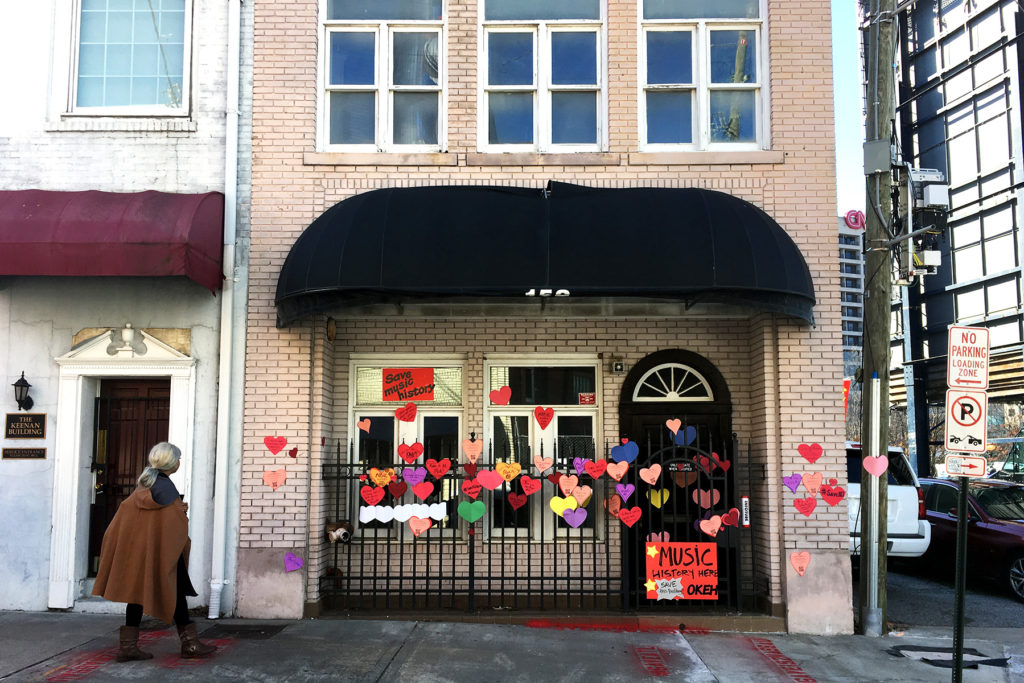 History
Excerpt below from: "The Nashville of its Day": Recalling the Origins of Recorded Country Music in 1920s Atlanta, by Stephen Goodson
On June 19, 1923, the commercial history of country music began as Fiddlin' John Carson, hero of many a local fiddlers' convention, entered a vacant building on Nassau Street to record "Little Old Log Cabin in the Lane," an old song lamenting the passing of rural life, for the New York-based Okeh Record Company. Whether referring to Carson's performance or to technical aspects of the recording, Okeh executive Ralph Peer famously deemed the result "pluperfect awful," but he had to reconsider when the original five hundred copies sold out quickly in Atlanta, necessitating a repressing. Carson was not the first artist to record country music – Texan Eck Robertson and Virginian Henry Whitter had narrowly preceded him – but Fiddlin' John somehow caught on where they had not, and an industry rose in his wake.
Learn more at the Nassau Street Sessions website!